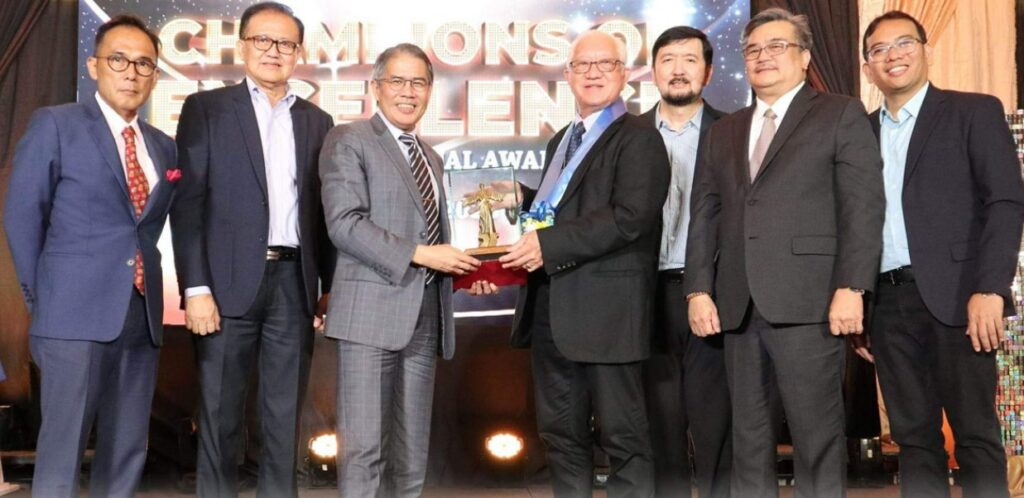 Eternal Gardens, one of the leading memorial park developers in the country, held its Grand Annual Awards Night with the theme Champions of Excellence, on April 20, 2023, at the Citystate Tower Hotel in Ermita, Manila.
The event was graced by Governor Hermilando I. Mandanas of the Province of Batangas, as the guest of honor. In his keynote speech, he began by reminiscing about the time he was working with Eternal Gardens' founder, Ambassador Antonio L. Cabangon Chua. "We've been together. We were physically in the same building when we were starting. We've gone a long way. We've worked on a lot of projects, especially during the time of former president Ferdinand E. Marcos".
He emphasized the importance of Eternal Gardens' services and commended the company for its outstanding contributions to the community. "Eternal Gardens plays a very important part in the whole sphere of service to God and our people," he said.
Mandanas praised the company and its sales agents for their unwavering commitment to helping Filipino families prepare for the uncertainties. "It is not only the performance that you have rendered, but you have created a very strong hope for a better tomorrow. You have underscored the need for inspiring and motivating others. You are leaders. You are champions. Mabuhay kayo at maraming maraming salamat!," he shared.
Meanwhile, Chairman and CEO D. Edgard A. Cabangon expressed his gratitude to Governor Mandanas for gracing the event and for his continued support to Eternal Gardens. "Sir Governor, we are very honored that you joined us in this very special event. Maraming salamat po."
He also extended his heartfelt congratulations to the awardees for their dedication and loyalty to the company.
"Without you, we will never have this party, we can never have expansions for the Eternal Group".
Cabangon also shared that the company is eyeing to open a park in Visayas region. "We are doing this ng dahil sa inyo, dahil sa pagmamahal ninyo sa ating kumpanya. Let us pray for it para kumpleto na tayo in Luzon, Visayas and Mindanao regions." He also assured that the Cabangon family, in ways they can, will reciprocate the love, loyalty and dedication of the Eternalite Salesforce to the company.
Other Eternal Gardens executives were also present to welcome the awardees, namely Vice Chairman Benjamin V. Ramos, Director T. Anthony C. Cabangon, President and Chief Operating Officer Numeriano B. Rodrin, Vice President for Sales & Marketing Jose Antonio V. Rivera, Vice President for Finance Marvin C. Timbol and Executive Officer Dannica Nicole A. Cabangon.
The 2022 Awardees were led by Saturnina G. Alcantara, first place, General Agency Manager category; Miguela A. De Ocampo, first place, Regular Unit Manager category; Ruby B. Olaso, first place, Regular Sales Counselor category; Rhodora H. Remigio, first place, League Manager category, and Rachelle Anne M. Aguilar, first place, Sales Counselor category.
As part of their incentives, the qualified sales associates were treated to an all-expenses paid trip to Boracay.
With over 250 attendees from the 11 branches of Eternal Gardens, the event was a resounding success, and the company looks forward to continuing its tradition of excellence in the years to come.